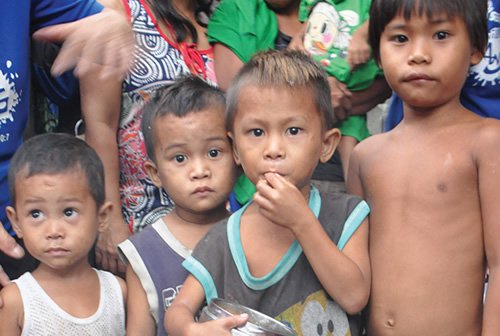 A message from Feed the Hungry
The children you see above are in the Philippines. They know what hunger feels like. They depend on the daily food provided by Feed the Hungry partners. Many get up at 4:30 in the morning to get in line to make sure they have food for themselves and their families.
You feed over 300,000 children everyday in the poorest places around the world. Otherwise, they would go hungry.
But this year will be hard. According to the UN World Food Program, COVID has doubled the number of people facing famines this year, from 135 million to over 270 million. We cannot help them all, but with your help, we can help many.
That's why we hope you will take advantage of an offer from a group of friends to match your donations $1 for $1.
A gift of $100 normally feeds 500 children for a day. When matched $1 for $1, the $100 gift becomes $200 and feeds 1,000. Likewise, a gift of $200 that would normally feed 1,000 children, now feeds 2,000! Twice as many people will be kept alive and cared for!
All the food you send is distributed by our team of churches and missionaries in refugee camps, schools, orphanages, and door-to-door. Lives are saved and children are educated. Trust is growing and many in these desperate days are turning to Jesus.
Thank you for your generosity for helping those in need.
GIVE ONLINE
OTHER WAYS TO GIVE
DIRECT DEPOSIT
Missions | BSB 012-347 Account 1074-96827
CHEQUES
While services are temporarily suspended, you can always give to Voice to the Nations Church by cheque by posting it to PO Box 45 Granville 2142. Please make all cheques out to 'Voice to the Nations Inc'.
You don't just give TO the church. You give THROUGH the church.